Uoolu Global Selling Store, a technical solution that helps real estate developers, agencies and brokers with property marketing worldwide, now is officially recruiting global copartners!

Relying on uoolu.com, the world's leading Internet platform providing information and supporting services for cross-border real estate investors and enterprises in 125 cities and 30 countries across the globe with over 3 million MAU, Uoolu Global Selling Store has become the first step for real estate professionals to enter the international marketplace.
Endorsements of Top Developers in the World: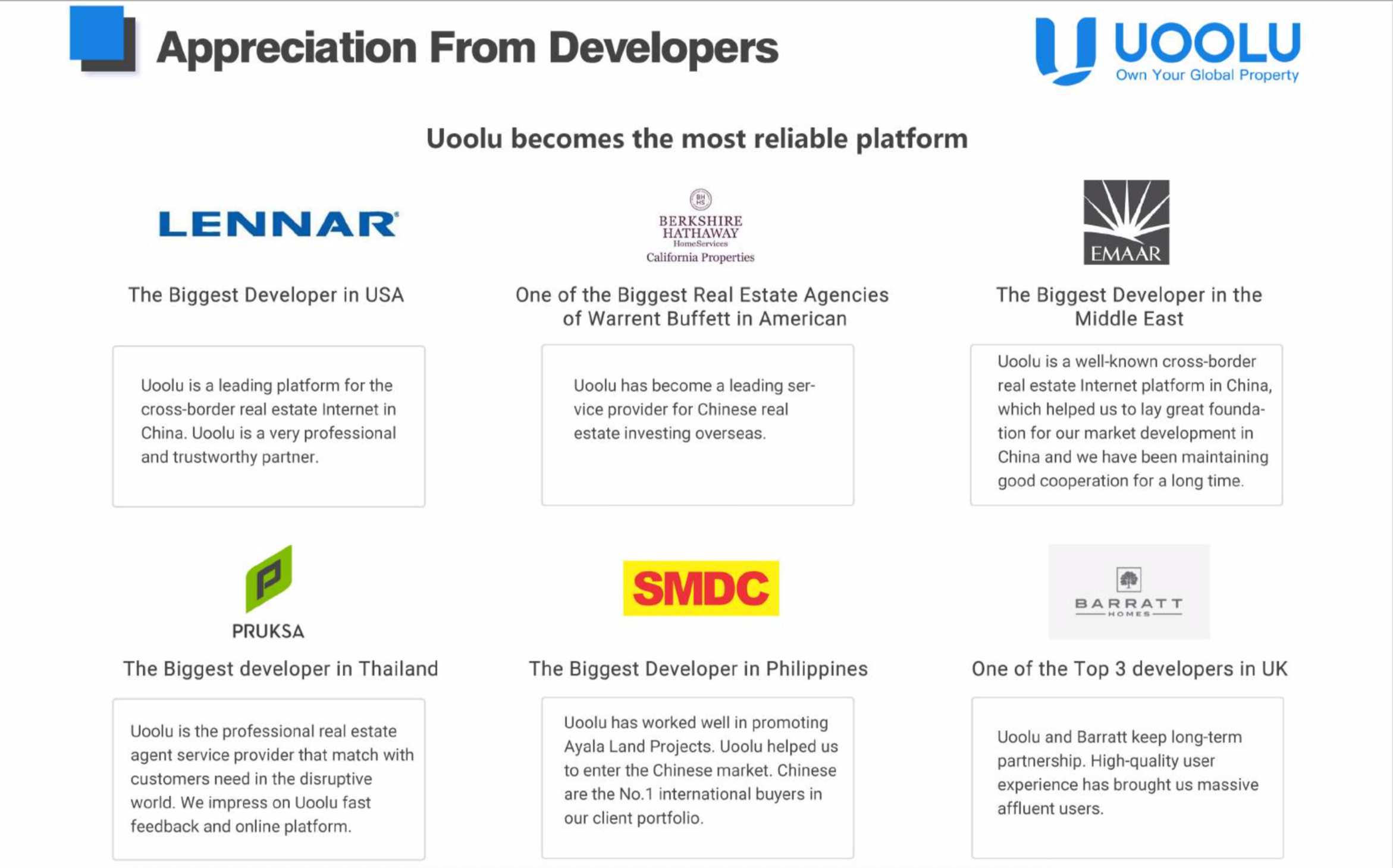 Taking advantage of Uoolu's huge user base and 135 global websites, Uoolu Global Selling Store helps reach out to over 70 million real estate investors worldwide. Up till now, more than 1000 real estate developers across the world has chosen Uoolu to realize cross-border property listings and other online services at a very low cost.
By becoming Uoolu's global copartner, you'll be able to share with Uoolu platform's expertise and international influence to acquire business resources in the real estate industry all over the world!
Rights & Interests:
$ Enjoying the agency right of Uoolu's Global Selling Store (non-exclusive) in your country;
$ Being issued with the "Uoolu Cooperation Partner Certificate";
$ Being provided with professional business guidance and product training on Global Selling Store;
$ Sharing considerable profits in a desirable proportion if introducing real estate partners to use "Global Selling Store" in a paid manner.
Responsibilities
1) Being responsible for developing potential clients for "Global Selling Store" in your country, that is, helping real estate developers, agencies and brokers to open online stores on seller.uoolu.com to realize property listings and property transactions;
2) Promoting Uoolu platform and "Global Selling Store" by introducing our products and services in time to reach global business partners in the real estate industry via all the media means;
3) Mastering clients' needs to propel contract signing through recommending to them suitable Global Selling Store price and service packages according to the client's business scope or property characteristics (developer package, agency package or broker package).
Qualification:
* Working in the real estate industry with certain influence in your country;
* Having enriched real estate resources in your country (priority will be given to companies with a considerable scale of business);
* If an individual, please show your passport or any other kind of certificate of your identity; if a company, business license or business registration certificate.
Contact Us:
Tel: +86 400 666 2316 Ext. 5
E-mail: globalselling@uoolu.com
Official Website: https://seller.uoolu.com
Facebook: Uoolu
Related Articles:
Uoolu Global Selling Store 2.0 Version Helps Property Sellers Realize Self-Marketing Worldwide! (https://america.uoolu.com/news/detail-21.html)
The First Batch of 7 Developers Open Uoolu Global Selling Store (https://america.uoolu.com/news/detail-44.html )
Uoolu Global Selling Store to help real estate developers to expand international market (https://america.uoolu.com/news/detail-48.html)