Founded in 2014, uoolu.com is a world leading internet platform for cross-border real estate transactions. Compared with other platforms in the industry, we enjoy the following advantages: No.1 in traffic: over 3 million MAU; No. 1 in copartners: 1,500 + developers; No. 1 in transaction volume: RMB 8 trillion GMV (the year of 2018).
We're also the most influential cross-border real estate internet platform in China, and we've held the Uoolu Global Real Estate Internet Summit, attracting hundreds of real estate professionals and media from home and abroad.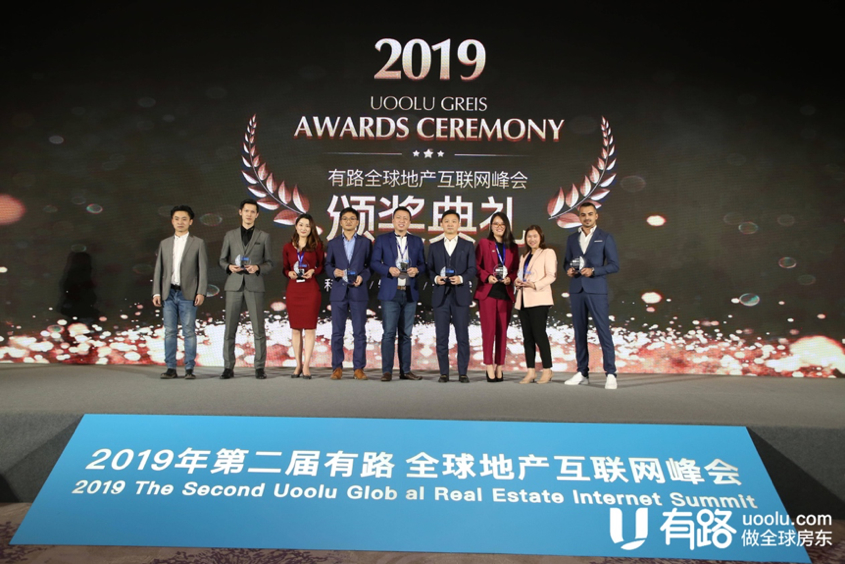 Most importantly, we're also a solution provider to help global real estate developers, agencies and home sellers at every level to better realize the listing, management and marketing of properties to home buyers and investors worldwide in an accurate, fast and cost-effective manner.
To further promote cross-border real estate transactions worldwide, the National Site Agency Recruitment under Uoolu Hundred Country Strategy is now launched officially!
Through becoming Uoolu's national site agency, you can then enjoy the following services offered by uoolu.com:
You'll be authorized with exclusive agency right of Uoolu brand, as well as the operation and management right of a national site (a certain country's website) on uoolu.com. The language of the national site can be switched automatically for users according to individual user's IP address.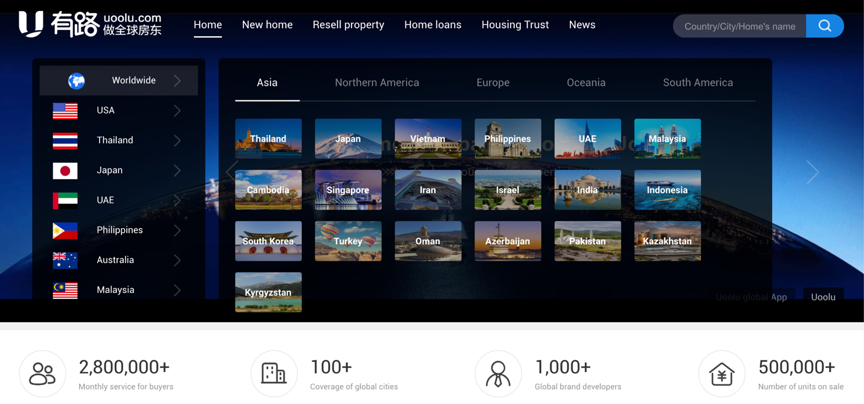 When you're operating and managing your national site, Uoolu will provide with you all the necessary assistances: (a) a full set of expertise and video training on how to operate the national site to realize cross-border property marketing; (b) one-on-one operation consultation services; (c) access to internal management backstage and account of the national site; (d) professional training on global property selling, advertising, business canvassing and so on; (e) professional training on cross-border property selling to achieve sales goals.
Apart from operation right and operation training, you'll be able to enjoy the following resources on Uoolu platform!
* Enjoy the dividends of brand exposure and PR promotion with Uoolu;
* Access to the whole-product technology platform through Uoolu national site, including the portal of your national site at PC and mobile end, Uoolu APP, Global Selling Store, backstage management systems and so on;
* Share with Uoolu more than 3 million independent MAU and tens of millions of cross-border investors worldwide;
* Qualification of attending Uoolu Global Real Estate Investment Summit and other similar international events;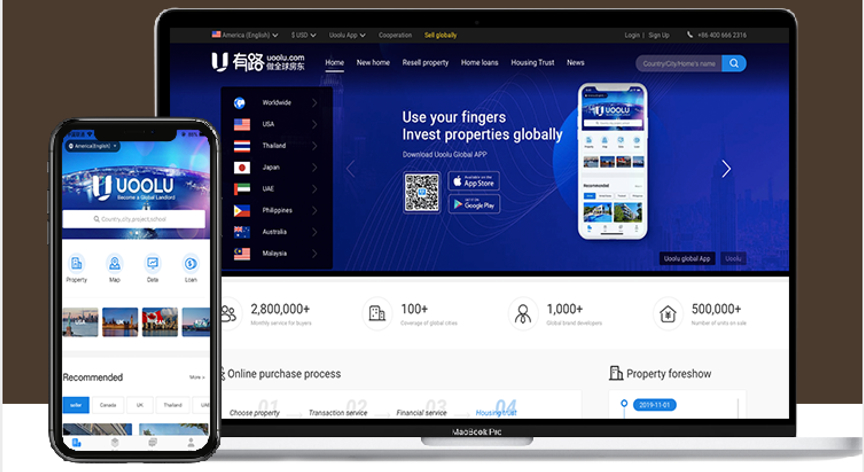 At the same time, you're expected to fulfill the following responsibilities:
Assets Expansion: (a) discovering "property projects" in your city and country, and establishing contracted cooperation; (b) signing with B2B client resources such as local real estate developers, agencies and brokers, etc.
Advertisement & Cooperation: (a) attracting more partners for Global Selling Store; (b) advertising uoolu.com and Global Selling Store to solicit more B2B resources.
Real Estate Transaction: being responsible for reaching home buyers in your country, providing them with pre-sale consultation services, and helping Sales Center to complete transactions later.
Platform Operation: (a) taking charge of market operation and promotion of your national site to promote its brand reputation; (b) operating the national site, and updating relevant content that includes property news, marketing campaigns and so on; (c) being responsible for improving the downloads of Global Selling Store APP (economic version) in your country.
Requirements on Agency's Qualification:
* Working in the real estate industry with certain influence in your country;
* Being able to cover more than 60% of cities in your country;
* Having enriched local resources in fields of real estate, internet and agency, with a quite mature company system and business scope;
* Providing a preliminary national site operation proposal (templates offered);
* Under the circumstance that copartner candidates compete for a single national site, the copartner will be decided through bidding.
If you're seeking for property marketing solutions or a cross-border real estate internet platform to sell properties to target customers globally, or a three-dimensional real estate transaction network to further expand your business, do please seize this chance and join uoolu.com!
Contact us:
Tel: +86 400 666 2316 Ext. 5
E-mail: globalselling@uoolu.com
Official Website: https://seller.uoolu.com
Facebook: Uoolu
Related articles:
Uoolu Global Selling Store 2.0 Version Helps Property Sellers Realize Self-Marketing Worldwide! (https://america.uoolu.com/news/detail-21.html)
Uoolu Strategically Cooperated with Swedish Company Nordeway AB (https://america.uoolu.com/news/detail-17.html)